Social Programme
Monday, June 10 - Tour of RUAG Space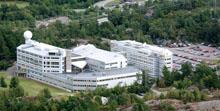 RUAG Space will be conducting tours of their Göteborg facility exclusively for SpaceWire conference attendees. Tours are scheduled for 11:30 and 13:30 with a maximum of 30 attendees on each tour. The tour will last approximately two hours. So register early!
The attendees will meet in the Radisson Blu hotel lobby for a short bus ride to RUAG Space, where a company introduction will be held, together with a presentation of RUAG's involvement in SpaceWire related projects. During a light snack attendees will have the opportunity to talk to RUAG representatives, after which RUAG's modern clean room facilities and laboratories will be toured.
Monday, June 10 - Registration Opens

SpaceWire registration will be open from 15:30 - 19:00 in the hotel lobby. Take this opportunity to register, meet new friends and renew old acquaintances. Complimentary juices/sodas from the hotel are available to registered attendees and their registered guests.


Daily

Breakfast is complimentary with your stay at Radisson Blu hotel - a buffet of over 50 items. Breakfast will NOT be served at the conference.

Morning and afternoon breaks along with a 3-course lunch, are included with your SpaceWire registration on Tuesday, Wednesday and Thursday.
Tuesday, June 11 - Mayor Reception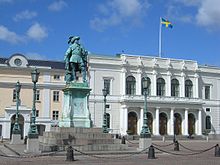 A complimentary reception hosted by the Mayor of Göteborg will be held at 18:00 - 19:00 at the Göteborg Commodity Exchange in Gustaf Adolf's square. SpaceWire attendees will meet in the hotel lobby at 17:30 for a 15 minute walk to the event. After a welcome by the Mayor, attendees will enjoy light snacks and a drink. Attendees are then free for the evening to experience the sights of Göteborg.
NOTE: attendees and their guests must be registered for this event and will receive a ticket at registration.


Wednesday, 12 June - Conference Gala Dinner and Evening

The casual Conference Gala Dinner and Evening will be an entertaining night with your fellow attendees. Here is what is in store for you!
Meet in the hotel lobby at 17:00 to walk 15 minutes to the M/S Lasse Dahlquist, named after a legendary Swedish actor, docked at the Göteborg Harbor. Board to a welcome drink and appetizers and prepare for your cruise of the Göteborg waterways! A very local guide will describe the sights of the city with seating available below and on the deck - bring your camera!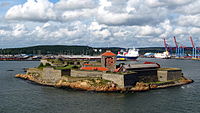 Your arrival at Nya Älvsborgs Fästning (Fort) will be welcomed with a cannon blast. The fortress on Kyrkogårdsholmen (Cemetary Island) at the entrance of Göteborg Harbor, began construction in 1653. A tour of the Fort and its history will be conducted.
The boat trip and the visit to the Fortress are sponsored by RUAG Space
Attendees will board the M/S Lasse Dahlquist for the remainder of the harbor tour and arrive at the River Café at 19:30. The views of the harbor are splendid and sunset for June 12 is at 22:12 (civil twilight at 23:24)!
A 4-course menu is planned featuring a taste of Sweden delicacies. Vegetarian and vegan meals are also available - please mark on your registration form.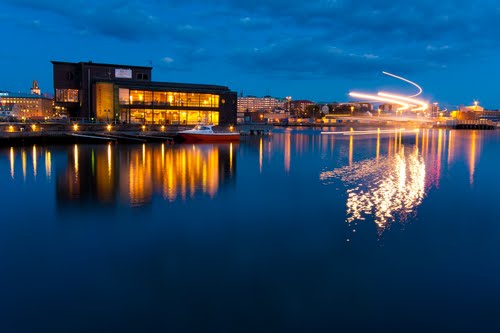 After Swedish songs (and speeches), attendees will board busses to the Radisson Blu hotel at 22:00, or stay in the bar and at their leisure take a local commuter boat back to Göteborg harbor for a short walk back to the hotel.
The Gala Dinner and Evening is included with your SpaceWire registration; we appreciate marking your attendance and meal selection on the registration form. Guest costs are USD 100 during early registration and USD 130 after May 6.
Note: Wear comfortable walking shoes for the fortress tour and bring a jacket and your camera!
Friday, June 14 - Tour of the archipelago
For visitors that would like to enjoy more of the Göteborg waterways we are arranging an optional 40 nautical mile adventure trip with high speed rib boats through the archipelago! There is no better way of coming close to the waters of the west coast, except for diving into the ocean of course.
Meet in the Radisson Blu hotel lobby at 08:00 to walk 15 minutes to the harbor where we suit up and start our trip out west through Gothia River (Göta Älv) and then north for a pit stop at Åstol Rökeri which is a famous smokehouse where smoked fish/shrimps and refreshments will be consumed. The trip continues north at high speed to Mollösund which is an old fishing village on the island of Orust where lunch will be served at the famous Mollösund Wärdshus restaurant. After lunch the ride back to the Radisson Blu hotel will be made by bus, with an expected arrival no later than 14:00.
The adventure costs USD 195 (excluding alcoholic beverages). Security equipment and waterproof overalls are provided for.